Elegant and Delicious New Mexican Cuisine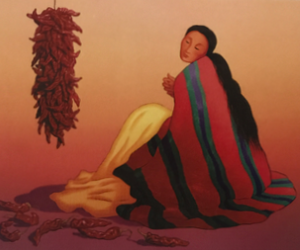 "Chile, red or green is like a romance that once nurtured, becomes a love affair." – Harmon Houghton's Red or Green Chili Bible – Love at First Bite
I was delighted that Harmon Houghton responded so quickly to me and gave me permission to reprint the recipes for Green Chile Sauce and Adobo from the Red or Green Chile Bible. Exploring New Mexico last fall enlightened me about this marvelous cuisine. I bought this incredible book in Madrid, NM as a gift; when paging through it, I knew I couldn't part with it. Everything you could possibly want or need to know about chiles is here, including an explanation of SHU (Scoville Heat Unit). Poblanos are my favorite, coming in at 1,000-2,000 Scovilles. Bell peppers are 0 Scovilles; at the high end are the Chocolate 7-Pot Chili Pepper, averaging 1,169,058 Scoville Units, and the Trinidad Moruga Scorpion, scalding at 2,009,231!
The capsaicin in the peppers produces the heat and is the plant's defense against being eaten. Lucky for us, capsaicin has many health benefits: anti-inflammatory; increases metabolism; pain relief; may help relieve nasal congestion and sinus infection; may lessen IBD and ulcers (helps kill bacteria like H. pylori); heart protective (may reduce cholesterol, triglycerides and platelet aggregation and may reduce formation of fibrin, necessary for blood clot formation)
I loved the section of the book about giving thanks for our food. All major religions and Native American culture are represented here. My favorite is the Cowboy's Prayer:
Rub-u-dub dear God, pass the grub. Thank you.
Green Chile Sauce
1 cup Fresh Green Chile (Anaheim, Big Jim, Poblano, Jalapeño, Serrano)*
1//2 cup chopped onion
2 cups water or broth
2 Tablespoons flour
2 Tablespoons Adobo spice mix**
Garlic clove or 1/2 teaspoon powdered
1 tablespoon Sweetener
1/4 cup vegetable oil
In a medium saucepan, sauté the onion and garlic in the oil over medium-high heat until tender. Stir in flour to make a paste, making sure that you keep stirring over a low heat until the oil and flour are blended. Add the chopped chile, water and spices and bring mixture to a simmer while stirring. If you want a smooth consistency, you can blend the sauce with a blender stick. Add additional water if you want the sauce thinner.
I roasted and peeled Poblanos; fresh, blanched, steamed, canned or frozen can be used as well. Also, I left the flour out.
**Adobo Spice Mix
Combine and put in jar:
Coriander 1 Tablespoon
Cumin 1 Tablespoon
Garlic powder 1 Tablespoon
Oregano 1 Tablespoon (rub whole leaf in palms to crush it)
Clove powder Pinch
Nutmeg Pinch
Thank you, Harmon Houghton!
Painting of woman and chiles by R.C. Gorman who says, and I agree, "Chile is truly the spice of life."
You can buy the book and explore this website: http://www.clearlightbooks.com/shop/red-or-green-chile-biblelove-at-first-bite-by/