PROPER STANCE in SQUATS!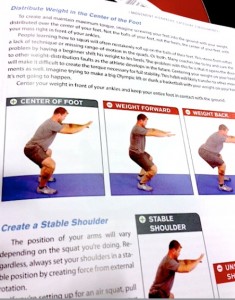 I'm sitting in Barnes & Noble, one of my favorite haunts & rest huts, & this is big news for when you want a really good work out:
I discovered a treasure of a book – a rare jewel – and sure to become my all time go-to, for maintaining my bio-individual, genetics-influenced Optimal health:
Becoming a Supple Leopard – The Ultimate Guide to Resolving Pain, Preventing Injury & Optimizing Athletic Performance by Dr. Kelly Starrett with Glen Cordoba
The photographs fixed  my weight distribution issue-I-didnt-know-I-had til I saw exactly how to have a proper stance in squats!
Thank you, Dr Kelly Starrett and Glen Cordoza!   You two are stars in our world !!!